---
Really looking forward to checking them out. I may start by simply dropping one in a Continuum and seeing how it measures before I do anything else.
---
Posts: 5
Joined: Sun Jan 06, 2013 11:33 pm
I just noticed them today they do look very enticing. Would be nice to see a full set of T/S parameters and some measurements.
---
Posts: 5
Joined: Wed Apr 22, 2015 11:56 am
Looks like it would be a good fit for the mids on my towers and center. Bookmark, check.

Edit: Ordered, going to (hopefully) measure and throw in a new build.
---
Yesterday I was able to take quite a few measurements of the new driver. I will try to get them posted in a couple of days.
---
OK. I have finally finished some measurements, and actually listening to the new Eclipse W520R-8 woofer and wanted to share what I have found. Here's a pic of the new woofer:
The woofer is a 5.25 nominal driver using the same frame as the Aurum Cantus AC130f1. It has a thin poly cone, rubber surround, and a fairly stiff dust cap. The motor uses a 20 oz magnet, which is a little smaller than the AC130's but it has a copper ring on the pole piece, which really does lower the inductance and nonlinear distortion compared to the AC130, and other similar drivers.
The first thing I did was run an impedance sweep and measure the T/S parameters. This is with a woofer right out of the box, so I don't know it the Fs will still drop some or not, it may drop a little, but I think the 45 Hz it is rated at will be hard to hit: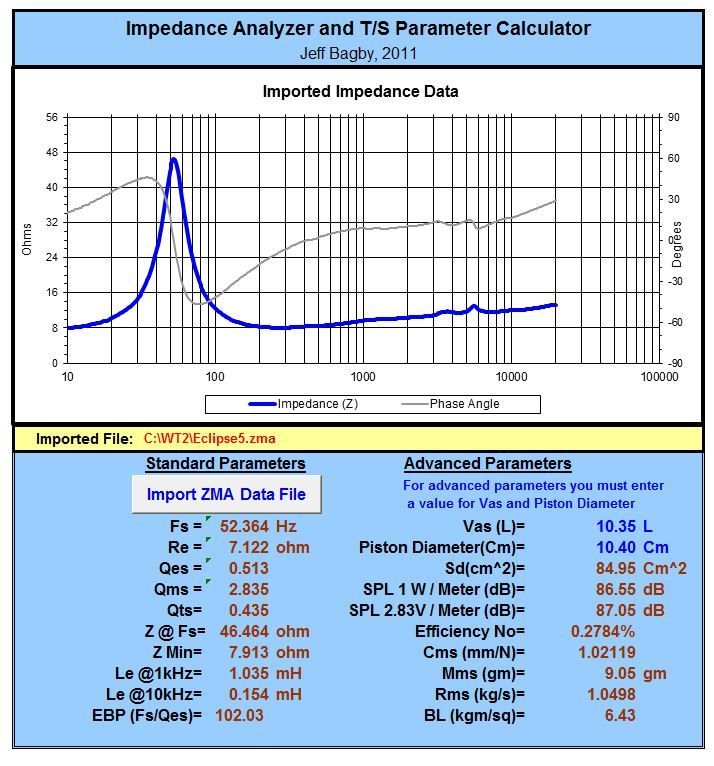 For the frequency response I mounted the woofer in an old Continuum test box, so this response is not infinite baffle, but in a small stand mounted monitor in free space (the way we would tend to use it). Unfortunately, I used a piece of plywood to cover the tweeter hole and it created some diffraction issues in this test by causing a bad reflection with the big edge plywood. So, the dip at 750 Hz and the hump at 1 kHz are both caused by my poor cabinet. The lower frequencies are disturbed by the room,but the upper frequency far-field is accurate. I will show near-field next.
Here is the near-field response. For this response ignore the date above 700 Hz.

Here is the harmonic distortion sweep for the driver. These results are quite nice with third order distortion staying at or below second order. This is the result of copper in the motor and reveals this to be a pretty nice driver in terms of distortion able to compete with drivers that cost considerably more money. (Note the peak in the response and in the second order distortion at 5 kHz, I will comment on that in a minute).
Here we see the Cumulative Spectral Decay. These can be difficult to interpret, and take some time to get used to reading them. They often do not show resonance and energy storage issues adequately, but will exaggerate the effects of reflections:
In this case, the ridge at 800 Hz is due to the diffraction issue with my plywood. You will notice that it actually develops later in time, that's showing us that it is primarily a reflection. The ridge at 5 kHz begins from the impulse and is a real resonance.
The Energy Storage Tone Burst Response is a better indicator of resonances and energy storage.
Here we see the greater ridge centered around 5 Khz. This corresponds to the peak in the frequency response and the small peak in second order distortion.
I believe that this "break-up" or resonance is caused by the very stiff dustcap. There isn't much to criticize with this new driver. It is very nicely designed, but a softer dustcap would probably have eliminated this anomaly at 5 khz.
Finally, since the the Eclipse W520R-8 uses the same frame as the Aurum Cantus AC130 I decided to drop it in with the Continuum crossover just for the fun of it an check it out. To my surprise, here is the frequency response of the Continuum with this woofer above 100 Hz:
Ha! would you look at that. It's ruler flat. Here's the far-field response of the Continuum with the Eclipse woofer:
The only real difference is the response between it and the Aurum Cantus woofer is the AC digs a bit deeper in the bass, and that's the only difference I hear too, the midrange is pretty indistinguishable between the two woofers. Other than the bass extension, this woofer is indeed a drop-in for the Continuum, especially if you are using a subwoofer. (The official Continuum will continue to use the AC130f1 though).
And how does it look? It looks like this in the Continuum Corian cabinet: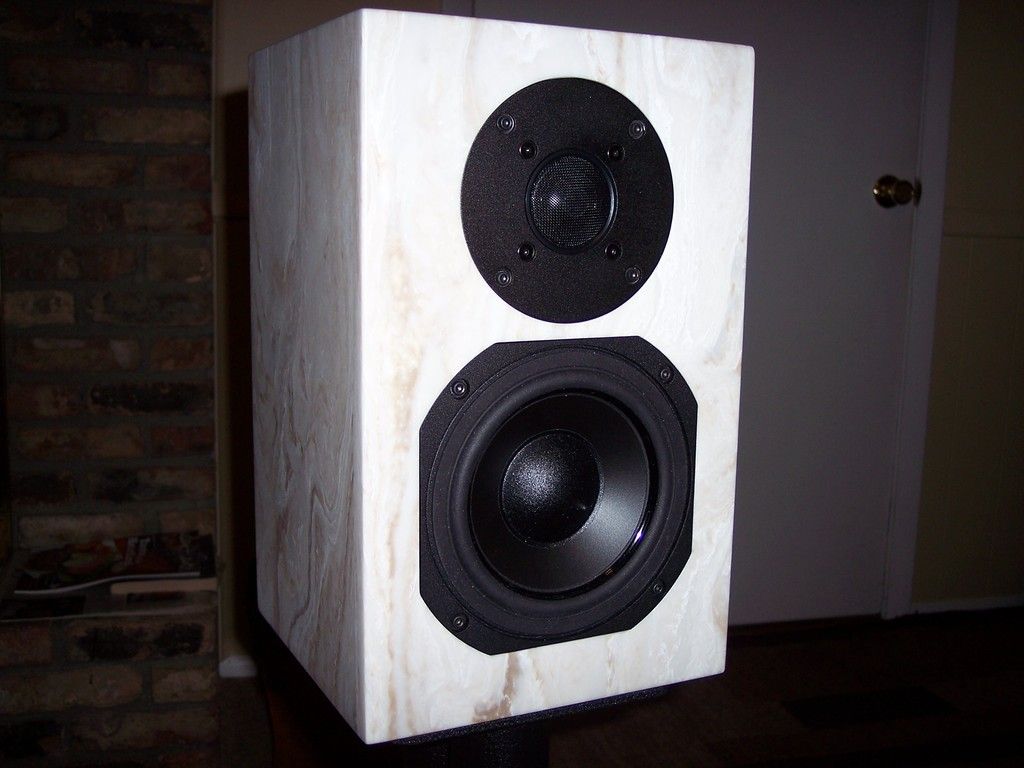 I'm thinking a new design with a pair of these is in order. What do you think?
Jeff B.
---
I find it strange that distributors such as Meniscus would produce their own drivers when they represent other driver manufacturers who now become competitors. Competing with your distributor is not cool.
---
Gowa wrote:I find it strange that distributors such as Meniscus would produce their own drivers when they represent other driver manufacturers who now become competitors. Competing with your distributor is not cool.
You mean like Parts Express and their dozens of Dayton drivers? Or the ones that have been made and sold by Madisound, Zalytron, Solen, Audio Concepts, Gold Sound, and others over time? It doesn't seem strange at all, since it is so common.
The large manufacturers will always maintain an advantage, and the quantities they produce will dwarf these house brands. And, remember, someone is making these drivers for the house brand. It's likely an OEM speaker manufacturer anyway. I believe in capitalism, and as such I believe market competition is a good thing for all of us. I doubt the Scanspeaks and Tymphany's of the world consider house brand speakers to be much of a threat to them.
---
Not to mention that Meniscus has been manufacturing Eclipse woofers for ages; it isn't like they just decided to fire it up and "go big". They had the Eclipse name before Fujitsu Ten.
Can't wait to hear this Jeff
---
Posts: 55
Joined: Fri Mar 08, 2013 10:11 am
Due to the generosity of a DakotaDIY attendee, a pair of these dropped into my hands this weekend.
---
We heard a pair of these woofers at Chi-DIY in a kit that Curt Campbell did for Meniscus. I was happy with how they sounded. Nice woofers indeed!
Wolf
---